How to do contour makeup for a teenage girl or beginners
In this post, you will learn how to do contour makeup for a teenage girl or a beginner. If you are new into the makeup you will understand how to apply blush, bronzer, highlighter, and lipstick makeup. This post is one of the parts of my blog on "how to do makeup for a beginner?" So read the full article for a better understanding of applying makeup for a girl.
How to choose the right bronzer shade for a beginner
After determining the right undertone and skin color, you can choose your bronzer shade which is one or two shades darker than your skin tone. This is a general rule of thumb. The purpose behind choosing bronzer is to achieve a fake sun-kissed glow. The selection process of bronzer is the same as selecting your foundation.  Bronzers are available in powder, stick, cream, liquid, or bronzers with shimmer particles in it. Choose bronzer depending on your skin type, color, and undertone. For cool undertone, you can go for warm peach, taupe, or soft brown, beige. For warm undertones, you can try all warm and golden-brown colors. For neutral undertones, you can try natural brown-based colors which neither have yellow or pink shade.
If you are fair- light skin color, you can buy light rose or peach, beige taupe and pink rather than orange or red tones. Because in sunlight your skin tends to turn pink, so you need to match this result with your suitable bronzer. If you are having medium or olive complexion than you are lucky enough to play with any colors. Go for copper or earthy tones which complements your natural tan very well. Finding shades for deeper complexion is a bit tricky. Warmer shades like deep terracotta or chocolate tones with warm or blue undertones look beautiful. If you are using bronzers with shimmer particles in it then go for golden color for the best illuminating effect.
Pro-tip: If you want to use shimmer bronzer than always check with the direct sunlight that how it looks on you. Oily people have enough shine on the face so go for a matte bronzer and not for shimmer one. Too shiny look is not good for natural day time look but great for night out.
How to apply bronzer makeup for teenage girl – contouring your face for a beginner:
Contouring means to bring out warmness in your face by sculpting your face features. A popular and easy way to apply bronzer is in the shape of '3' on both sides of the face but not too close to your nose area, leave a gap of two small fingers between the bridge of the nose and bronzer application in '3' shape. You can try to make a fish face or a pout for better application of bronzer. Apply bronzer on those facial areas where sunlight would naturally hit. The best way to avoid the beginner's mistake of over-applying is by building the color gradually. Apply bronzer on the forehead where it meets your hairline, bridge of the nose, the apple of your cheeks, and just under the jawline. Keep it sheer and blend as needed. Apply bronzer with a medium-size angled brush for more control. For powder, bronzer sweep the brush over powder bronzer and tap off any excess before applying it. This trick always works for any kind of powder makeup products. For cream, stick, or liquid bronzer I would suggest you, use makeup sponges or stippling brush in a stippling or dabbing motion. Apply a small amount on the sponge and stipple the product to bronze one area at a time. Apply bronzer along your jawline and temples for a slimmer effect.
Pro-tip: Always check your bronzer application in natural light. If you found that your bronzer is too dark or heavy then take a clean powder brush and blend out the excess product by rubbing the brush in a small circular motion. Always double-check and if you find out any hard edges than take slightly dampen the sponge and blend out the bronzer gently.
How to choose the right blush makeup for a beginner or teenage girl: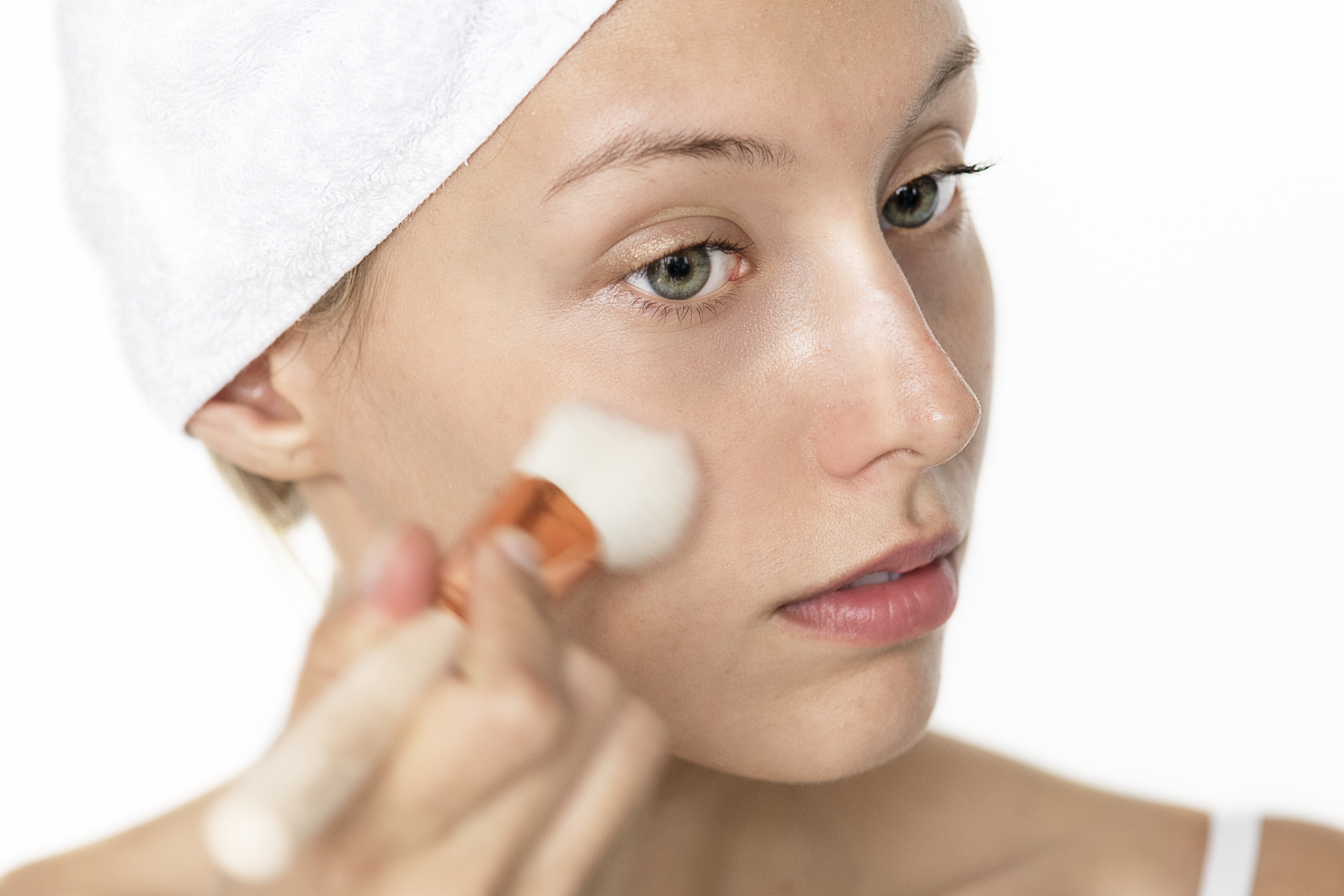 Again, it depends on your skin undertone and complexion. You need to choose blush on the bases of your skin type and seasonal changes also. Apply blush on the back of your hand and blend it out into the skin. Now see how your blush matches your undertone. If you have fair-pale skin than going for light or pale pink blush is good. If you have fair skin with red or pink undertones than use a blush with pink or lavender undertones. And if you have fair skin with yellow undertones than go for orange or peach undertone blush.
If you have medium complexion than go for apricot or mauve toned blush. If you want a more natural and dewy look than apply berry-toned blush.  If you have a medium-olive undertone than buy those blushes which are more on red and pink side i.e. warm, peaches, and red tones, but don't go for yellow undertone otherwise it will make you look sick.
If you have darker skin than apply brick toned or bold raisin color blush. And if you are a dark warmer skin person than try tangerine color blush. It will look beautiful and give you a natural flush of color for a dewy makeup look.
You can play with colors and experiment with various types of blush colors by using a blush palette. You just need to experiment with colors for knowing which looks good on you. In a daytime, go for lighter shades for natural makeup look and in night-time go for a shade darker or use bold colors. I would suggest you as a beginner or a teenage girl, you first need to practice basic and natural makeup look and then go for different makeup looks.
Just like other makeup products blushes are also available in different forms like powder, cream, stick, liquid, gel, and tinted or stain blush. So, choose blush which is best suitable for your skin texture and complexion.
How to apply blush makeup for a teenage girl or a beginner:
Try small powder and fluffy brush for applying blush. Sweep brush into powder blush, tap off excess and apply on the apple of your cheeks in clockwise and back towards the temples. While applying you can smile for a better direction. For the cream blush, apply dot with fingers on the apple of your cheeks and blend it out with fingers or sponge. For stick or liquid blush, you can put small dot or draw lines on the apple of the cheeks, keep a gap of two small fingers from the bridge of the nose and blend it with sponge back towards your temples. For tinted or gel-based blush you can simply use your fingers. Always take a small amount for the application and gradually build the color and blend it well.
How to choose highlighter makeup for a teenage girl or a beginner:
The highlighter comes in various forms and various colors too. It doesn't mean one size fits all. Different highlighter gives different results for different undertones. The general rule of thumb is to choose one or two shades lighter than your skin. The goal of applying a highlighter is to achieve a dewy look which gives you a natural and freshly moisturized skin look. While buying your highlighter choose it in natural light only. Apply it on your cheekbones to know whether it suits you or not. Highlight your high points of face i.e. cheekbones, bridge of the nose, cupid's bow, inner corner of your eyes, your brow bone, the center of the forehead, and chin. Also, apply highlighter on the back of your hand to see whether it suits your undertone or not.
For fair skin tone, go for shades like champagne, silver, lilac, peach, pearl, and light pink tone. It is best to avoid shades like bronze and copper. It will look fake on you. If you are medium to wheatish skin tone than go for peach or golden tones and champagne. Avoid pink tones and look for the colors which have more warmth to them. For deeper skin tone buy rich golds, copper, and bronze tones. Avoid pink tone because it will look grey on you. Avoid too many shimmers otherwise it may look ashy sometimes.
How to apply highlighter for a beginner:
Highlighter is a second final step. It will enhance your bone structure and give your skin a shiny boost. For a teenage girl or a beginner, a subtle glow is suitable for a natural makeup look. After practicing this, you can achieve the level of glow like a disco ball. After choosing the right highlighter shade for your skin tone, you can choose to apply highlighter on the top of the foundation or before the foundation too. For a beginner, I would suggest you, apply a highlighter on top of the foundation. But you need to know that liquid or cream highlighter can break up the foundation easily. So, in this case, mix highlighter in the foundation for a natural makeup look. For cream highlighter, you can use your fingers. For powder, you can use a blush brush or sponge, and for a more natural look, you can use a fan brush. You need to apply highlighter just above the area where you have applied your blush. If you want intense payoff than you can use dampen the sponge. For very precious areas like inner corners of eyes, brow bone, cupid's bow, and the tip of the nose you can use a small pencil brush. Leave some gap from your bridge of the nose and apply the highlighter in 'C' shape and blend it. Also, don't forget to add a subtle swipe down your nose as well.
Remember that less is more. As a beginner or a teenage girl, always use a small amount for blusher, bronzer, and highlighter application. Start with applying one layer of each of these three products. And then apply more layers for an intense look. Also, take some time and watch some YouTube videos on how to apply makeup and how to apply bronzer, blush, and highlighter. The right placing of these three products is very important.
How to choose lipstick  for a teenage girl or a beginner:
Lipstick can change your entire face look. The right lipstick will give you the best makeup look. For beautiful lipstick application, you will need good lip scrub, nourishing lip balm, lip primer, lip liner, lip brush, and your favorite color lipstick. Lipstick is available in various forms like pencils, bullets, liquid, cream, lip tints, lip kits, etc. you can choose lipsticks based on your preferences like occasion, based on outfits and makeup look, lip texture, and complexion. If you have dry lips then go for that lipstick which gives your lips complete nourishments.
How to apply lipstick or lip makeup for a teenage girl or a beginner:
Step 1: For smooth application, you first need to scrub your lips so that there are not any dry or chapped lips. Use good quality lip scrub or homemade lip scrub (research YouTube videos for this) for removing dead skin from the lips. Apply the scrub all over your lips and gently massage in a circular motion with fingers or with a soft toothbrush on the lips. Then, wipe it off with the help of tissue. It will give you smooth lips.
Step 2: Apply lip balm. Use that lip balm which gives your lips enough nourishment. If you have very dry lips, apply heavy-duty lip balm for better nourishment of your lips. Use that lip balm which stays for long on the lips so that your lips don't feel dry. Now, wait for 5 minutes before jumping on a lip primer.
Step 3: After applying lip balm, use lip primer so that your lipstick stays for long on the lips. Primer helps to prevent your lipstick from being fade away.
Step 4: If you are having any kind of discoloration or uneven lip tone than it is necessary to apply lip base. Lip base helps to lock your lip color for longer. It also helps to prevent your lipstick from shrinking into your lips. Apply your concealer which matches your skin on the lips with the help of a small fluffy brush or flat brush. Now apply some compact powder over this to lock your lip base.
Step 5: Define your lips with the help of lip liner. Keep in mind that lip liner should match the lipstick color or one-two shades lighter than your lipstick. Lip liner will give you a more précised and defined look. It will help to shape your natural lips for a more polished look. Lip liner helps contour your lips very well. Create an "X" shape on the center of your upper lips. Now outline your natural lip line with the help of lip liner from one corner to another corner. Keep your hand steady and slowly do this process.
Step 6: Now fill in your favorite lipstick color with the help of lip brush or your fingers. You can directly apply the lip color from your lipstick as well. Now you can apply lip gloss over lip color if you wish to. This is optional if you want to wear lip gloss or not.
Pro-tip: If you have dry lips then don't use matte lipstick, go for that lipstick which gives your lip enough nourishment. Don't ever apply a darker shade of liner with a lighter shade of lipstick, it will just ruin your entire look.
If you want a matte finish look on the lips and don't have matte lipstick then you can use cream lipstick and take tissue paper. Put it on lips and gently press against lips. It will absorb the excess lipstick. This trick will give you a matte finished lip look. Also, if you see lipstick marks on the teeth, you can put tissue paper between the lips for a few seconds and slightly press the paper between the lips. Do this for 2-3 times. This helps to prevent the lipstick marks on the teeth.
As a  teenage girl or a beginner, I would suggest you apply tinted balm or lip tint with fingers for a more natural and everyday look. For a night out, you can apply dark lipstick. Using your fingers for lipstick application will give you a softer look and this will look best on the beginner girls.
If you are confused about which lipstick color should you choose than go for nude colors for a daytime-natural makeup look. If you are still confused then you can go for red lipstick as it is a universal color that compliments every skin tone. Never apply bright colors with smokey eyes. With smokey eyes, you can apply soft or nude colors.
Never apply lipstick on chapped lips otherwise it will give only cracks and lines on the lips. Never try samples or testers of lipstick on the lips because its been on so many lips and cause the infection. Never apply expiry products or it will give you allergy. Also don't give your lipstick to use anyone, it will also prevent the transformation of infection.
It is not necessary to follow trending makeup tricks, always do those makeup which suits you the most.
Here is part 3 of 4 is completed so, stay tuned for upcoming blog and article on this topic. I will share the last part of this article very soon. You can comment or ask me for more queries.
Disclaimer: This post is about information and knowledge purposes only. For practical knowledge please, watch YouTube videos.  There are so many YouTubers sharing videos on this topic. This article will give you all the basic knowledge and ideas on "how to do contour makeup for teenage girl or beginner?"